For this week the brief was to first choose a specific location, I opted to go to my local train station as it one of the most significant places that actually allowed the rest of my area to be built. The train station was put in so Londoners could come golfing and consequently house were built. One of the main features of the trainstation is this boarded up house. When I was younger I thought a murder took place and that it was haunted. This got me thinking what is it? I mean I've been to that station hundreds of time and its not hard to miss! Why have I never thought about it. I decided that this structure would be my starting point.
Using primary research I went to the station and asked people what they thought it was
to discover whether anyone else had every thought about it before. One women said " You know what I used to come to this station everyday and stood right there (Points right in front of it) and I never thought about it". There was the evidence that showed this place of mystery is looked over by such a busy place. shouldn't it stand out, shouldn't people realize it. I discovered it was a substation built in the late 1800s which probably gives it gothic looking style yet still the magic behind what it could be was beautiful.
My final concept was creating 3D paper origami houses, you would then need to unfold them to find out what people thought the building was. On the other side would be a map to navigate around the station to have a function. I really liked the way it came out- the origami houses were tiny and therefore could be actually used and then put back in your pocket. You can see below the first attempts of origami and planning how the text would look etc.
Above is just some collage and illustration work I created using the photographs I took when I first visited the site for my location of mapping and wayfinding. I like these as visuals however I ended up not developing these any further however I still really like the geometric shapes ties in with illustrative iconography.
My initial ideas for the origami house
I used photographs of the house above to create the tiny origami house. I like the way the roof is a tree, adds an air of mystery. I want to leave these dotted houses around the station and watch people open them just so people can think about what the building is. Below is the map I designed.
My origami house seen as 3D. I am really happy with the little constructions, the idea that they have two functions was inspired by Grayson Perry's map scarf of the British Museum.( Seen below). I really like the discretion of the map ad the way you have to open it up to reveal its contents. Another artist which really helped me in my process was Slinkachu, this well known artist uses the environment to integrate his artwork. My plan for these little houses to be placed within the surroundings, as they are miniature I hope that they draw a lot of attention and make people want to look closer.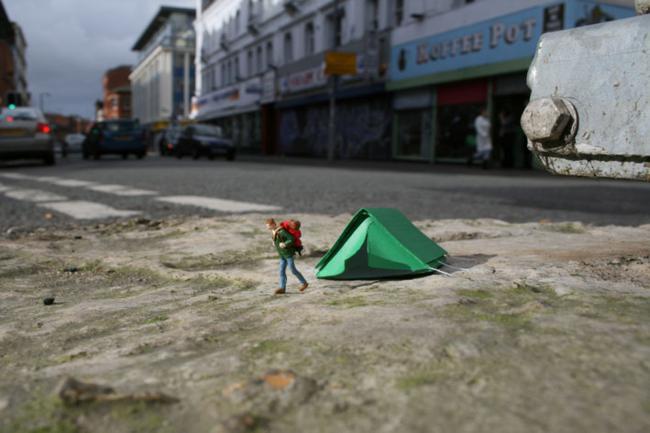 Above and below are images of the crit, there was a wide range of maps however I was the only one which made a 3D thing, there was a lot of print based and electronic however all were unique and had different meanings which I liked. I received praise about my little house and the functionality of it.